Dr. Ragini Prem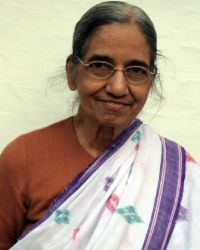 Dr. Ragini Prem
Dr. Ragini Prem, a physician by profession, was a Gandhian who dedicated her life for realizing the ideal of Gram-Swaraj and Sarvodaya. She made seminal contributions to rural health, women empowerment and the fight against environmental pollution in the Sonbhadra district.
She was born in Hyderabad in 1934 to Vishnu and Usha Palshikar. Her father, Vishnu Palshikar, an architect by profession, came from a family involved in the Gandhian movement. During her medical college days, she had travelled to tribal areas of Orrisa and Andhra Pradesh. Exposure to pathetic health conditions in these tribal villages, the inspiration derived through interactions with Baba Amte and reading literature by Gandhian thinkers like Acharya Dada Dharmadhikari were to shape her career. After completing her M.B.B.S. in 1958, she worked at the Kasturba Hospital at Sevagram as a medical officer from 1959-61, where she got exposed to the hospital's initiatives to take healthcare to the rural areas. She would travel to rural healthcare centres in bullock carts or even walk to reach the rural patients. A participatory healthcare approach developed by the Kasturba Hospital had a deep impact on her. She realized that spreading health awareness is deeply connected with the local social conditions and culture, and, can be a long drawn process. Sevagram is an institution where veterans as well as young minds working towards realizing Gandhian ideal of Gram-Swaraj congregate. During this period, she got an opportunity to host veteran Gandhian and member of the first planning commission, Shri. Annasaheb Sahastrabuddhe, in her residence during his Sevagram stays. It was also here that she had the opportunity to interact with young Prembhai, who was then a close associate of Shri. Annasaheb Sahastrabuddhe.
After completing her M. D. in medicine in 1963, Dr. Ragini joined as an honorary assistant professor in Gandhi Medical College, Hyderabad. After her marriage with Shri Prembhai in 1966, she quit the faculty position in 1967 and decided to move to Banwasi Seva Ashram at Govindpur, where Shri Prembhai had already begun his work. She setup a healthcare centre at Govindpur and set the rural healthcare programme of the Ashram in motion. She worked on integrating the traditional tribal knowledge of health, use of household remedies and herbs with the modern medical practices. She wrote training modules, brochures and booklets for the workers and the village people, on health and primary medical care and other rural development topics. She mobilised and trained hundreds of traditional barefoot health workers, village health friends and birth attendants in the vicinity of Banwasi Sewa Ashram. This pioneering work in the community healthcare in rural India has served as a model for many governmental and non-governmental development agencies.
After passing away of Shri. Prembhai in 1993, she took over as the secretary of Banwasi Seva Ashram. By the nineties, as a consequence of industrialization, air and water in significant part of Sonbhadra district had become severely polluted, which affected the agriculture and health in rural and tribal areas. Under her leadership and with the guidance and support of Dr. G.D. Agrawal, the Ashram started a major initiative in protection of the environment. The Ashram actively campaigned against mercury pollution in Singrauli area in Sonbhadra, known for its numerous polluting coal power plants. These efforts bore fruits when central pollution control board stopped the extension of the projects in Singrauli region in 2009.
In her new role as secretary, she made special efforts for empowering women in the Ashram villages. She nucleated natural farming practices on demonstration farms at the Ashram. Programmes were undertaken for motivating, training and guiding youth volunteer groups for Gramswarajya oriented development work in the community, especially for the deprived, oppressed and exploited. Camps were organized for orientation of adolescents to life. Capacity building activities were held for the Ashram's staff and workers and the village personnel. In 2009, Ashram took lead in forming the artisan's union and distributing identity cards. With the aim of empowerment of artisans in the tribal villages, the Ashram attempted to provide tools and working capital, arrange raw materials and provide marketing support to these artisans. In 1997, she was honoured with Smt. Jankidevi Bajaj award for her seminal contributions to rural entrepreneurship.
As a strict administrator and a compassionate co-worker, she managed to knit the Ashram and the Ashram villages into a big family. Until she breathed her last breath on 2'nd Nov., 2014, she was passionately working towards realizing her vision of bringing a holistic change in the lives of tribal people and the forest dwellers in Sonbhadra district by strictly adhering to rightful approach and peaceful means. Her dedication to tribal empowerment through the Gandhian approach will forever be a source of inspiration for the Ashram co-workers and the young generation.