Shri. Karan Bhai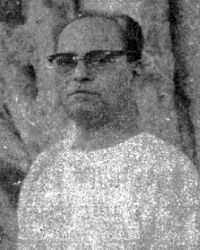 Shri. Karan Bhai
Founder Secretary
Shri Karan Bhai was the founder secretary of Banwasi Seva Ashram when the Ashram was formed in 1954. Being Secretary of Gandhi Smarak Nidhi, which was active in the Sonbhadra region, he was well acquainted with the region and volunteers involved in the activities. In addition to being an able organiser and a disciplined administrator, Shri Karan Bhai had an exceptional ability to motivate co-workers and volunteers and to mobilise the attention of decision-makers.
Moved by the pathetic living conditions of the tribal people, he started six Gram-Sewa (village-service) centres. Ashram workers were posted in each centre. The region has severe water shortage in those days. Through support of Patel Smarak Nidhi, he managed to dig wells in some villages. He also managed to secure support from the Prime-Minister's Fund for distribution of clothes, blankets and appliances for agriculture. When the Rihand dam was built, the process of getting compensation for people living in the dam affected areas was in disarray.
Influential citizens in the area had managed to get land in their name by falsely claiming to be from the affected areas. Local poor farmers were left in lurch. To address these problems, Rihand Dam Doob Sahayak Samiti was formed in Gaharwar village. Karan Bhai managed to get the attention of the district collector in sorting out this problem. The district collector intervened and a special officer was posted in the region to sort out the problems and eliminate the discrepancies in the distribution of farming plots to poor farmers in the dam affected villages. Enhanced and rightful compensation was given to the affected farmers. The cost of relocating the people in the dam affected area was also carried out through government support. Shri. Karan Bhai's leadership in the formative years of the Ashram proved to be a vital factor in shaping the initial rehabilitation activities. He was a constant source of inspiration to ashram workers and volunteers. Whenever the Ashram took up any challenge, such as Sharab Bandi, Bhoomi Hakdari, he took full interest in the activity.