Shri. Prembhai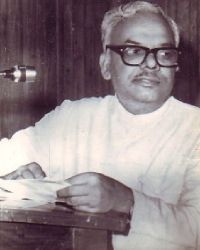 Shri.Prembhai
Prem Bhai was a multi-dimensional personality. He was a Gandhian, planner, economist, effective speaker, village development technician and a constructive worker fighting for the rights of socially neglected and backward classes. He made efforts to construct a social order according to Gandhian thoughts for solving problems of the rural communities. His efforts were based on people's participation, self-governance and long-term sustainability. His planned achievements during 27 years in the domains of strong people's movements, leadership development of local voluntary workers, formation of gramswarajya sangathans and appropriate usage of local resources are highly motivating.
Prembhai was motivated to become a Gandhian worker when at the age of 18 years he listened to a motivating speech of the Sarvodaya leader Jaiprakash Narain at Meerut College. He left his home to join khadi and village industry experiment of dedicated worker of Sarvodaya movement Dhirendra Majumdar at Munger district of Bihar. There he learnt to lead a life full of simplicity, self-control and importance of productive labour. On consistent persistence of his mother, he resumed his studies in 1955 and did B Sc the same year and two years later MA with Sociology. During the studies he kept his living, dress and conduct according to khadi and village culture.
After attaining MA degree, he re-joined bhoodan-gramdan movement. For the two years he toured different parts of the country and understood state and problem of villages in the country. He studied Koraput experiment with the famous Gandhian economist Anna Saheb Sahasrabuddhe and started working in his guidance at Sevagram (Maharashtra) in 1961. While at Sevagram, he joined Indo-Israel Agriculture Project, in which, in association with an Israel couple, he did many experiments on agricultural tools, improved agricultural practices and technique for agriculture based self-reliance on 5 acre agricultural land. Christened Agriculture through Horse, he had a deep thinking and a special emphasis. He learnt a lot from these experiments and got a scientific vision about agriculture development. He also got skills of preparing long term development plan based on gramswarajya in socio-economic context in association of Anna Saheb.
Prembhai was born on 10 September 1935 at Meerut. His father Ved Prakash 'Vedalankar' was associated with a branch of Lahore Ganga Seva Trust, but died early in Delhi following cardiac arrest. Prembhai was brought up by his mother Pushpavati with hard labour. She got education from Matric to Postgraduation level after her marriage and then took charge of a higher secondary school. His maternal grandfather was associated with Arya Samaj and freedom movement. His maternal aunt was working with Kasturba Trust at Samauli in Uttar Pradesh. Prembhai got inspiration for social work and struggling life from his family.
After 1963 Prembhai did some experiments in agriculture and cow rearing at Basant College at Varanasi. He joined Sarva Seva Sangh, a Varanasi-based organisation espousing Sarvodaya movement, as joint secretary and furthered experiments of gramdan reconstruction with the then secretary Radhakrishna.
In 1966, Bihar and its neighbouring areas, particularly southern area of Mirzapur district were affected by a severe famine. There Banwasi Seva Ashram was running several free community kitchen with cooperation from Uttar Pradesh Drought Relief Society. Prembhai joined relief work there. He decided to carry out experiments for permanent solution to famine and selected southern region of Mirzapur district (now known as Sonbhadra) as area of his work. Dr Ragini Prem also decided to work in this area. Prembhai was married to Dr Ragini on 10 July 1966. The family of her father Vishnu Palshikar is also a dedicated family for Gandhian thought. Dr Ragini Behab has done MD in Medicine and taught at Osmania University. After the marriage, she joined Prembhai as a shadow in his experiments. Her health project is a boon for Sonbbadra district are becoming a torch-bearer for the country.
It may be mentioned here that southern part of Mirzapur district has always been affected by famine and drought. Banwasi Seva Ashram was founded in 1954 with the inspiration of the then Chief Minister of Uttar Pradesh, Pt. Govin Vallabh Pant, for permanent solution to the famine. The Ashram started work in right earnest, but was slow in implementing the project and accepting the challenges. Prembhai accepted this challenge and started the task of famine removal in a new manner from 1967.
Prembhai was appointed as Commissioner by Supreme Court in 1984-85 for inquiring into employment of child labour in carpet industry. His report saved thousands of child labour from trade and with his scheme all of them were rehabilitated. In the same way efforts were made to free thousands of bonded labour from bondage and their rehabilitation. For the rights of rural people he started Rural Entitlement and Legal Assistance in the country. He felt that it was necessary for social workers, lawyers and judiciary to enable the rural community fully use provisions related to their development. He started this project in Uttar Pradesh, Madhya Pradesh, Bihar and Orissa. Under this project a people's movement was launched in the tribal area of Sonbhadra district for solution of the land problem. As a result, Supreme Court set up a high powered commission and appointed Prembhai its Commissioner.
A noteworthy feature of Prembhai was that he was associated with the youth of the country and gave direction, motivation and cooperation for doing social work. Assam, Bihar, Bengal, Orissa, Madhya Pradesh, Maharashtra, Manipur and Uttar Pradesh have more that 150 youth groups who have got guidance and cooperation from Prembhai. On 125th birth anniversary of Mahatma Gandhi, He planned to constitute 125 youth groups in the country. He established Gandhi Mission with the former Chief Justice of India, PN Bhagwati.
Prembhai worked to provide relief among 5 lakh refugees from Bangladesh in 1971-72. The speciality of this work was that the responsibility of service, activities and management was given to the 'leaders' from amongst the refugees themselves. With this resources could be put to maximum use for the betterment of the refugees. Prembhai worked with devotion in cases of drought, flood and natural calamities.
For his social work, Prembhai received Jamna Lal Bajaj Award. He was associated with several national and international organisations like International Agricultural, Economist Association, National Literacy Mission, National Committee for Adult education, ICAR, CAPART, AFPRO, Sarva Seva Sangh, Uttar Pradesh Gandhi Smarak Nidhi, Pradesh Matdata Jagrookta Abhiyan Samiti, Gandhi Peace Foundation, Akhil Bharatiya Krishi Gau Seva Sangh, Gram Niyojan Kendra, Natioanl Committee for Promotion of Social and Economic Welfare, etc. He effectively raised issues related to poverty and injustice at national and international forums. For this he travelled extensively to alien lands – Israel, Britain, Holland, Denmark, Sweden, US, Germany, France, Indonesia, Thailand, Malaysia, Singapore, Nepal, Bhutan, Philippines and Bangladesh. Several organisations have been benefited from his knowledge and experiences.
While being too busy in social work, he was always sensitive to his family duties. His elder daughter Vibha is a doctor. His younger daughter is assisting in Ashram work. His wife Dr Ragini Prem is looking after the Ashram since beginning. Thus his entire family is devoted to Gandhian work.
Prembhai left for his heavenly adobe on 07 November 1994. The Ashram is fully dedicated to further the work where he left.