Achievements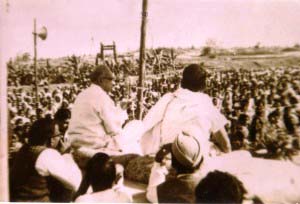 Sarvodaya leader Jaiprakash Narain at a Gramswarajya convention in the operational area.
The main achievements of the Banwasi Seva Ashram over the past 50 years are:
Establishing rapport with people living in all 400 villages in the four community development blocks of south Sonbhadra.
Forming three-tier people's organisation. Three tier people's Gramswarajya organisation has been set up to promote people's initiative for community development at the village level, at village development center level, and at Ashram level. There are Gramswarajya Sabhas in 445 villages (hamlets) to take initiative in resolving the village disputes within villages itself; introducing social reform; promoting women's equality and development, in promoting communal harmony; sharing of the responsibility in implementation of the development programmes, in asserting themselves to get their decreed entitlements, and in containing corruption. On an average 2,700 disputes are resolved per year by the Gramswarajya Sabhas.
Securing social justice. The Ashram has helped the people by obtaining
Release of 1,500 bonded labourers and 1,000 acres of land under occupation of others and/or forest department
Land titles of 5-15 acres per family for 50,000 families residing on the total land 2,75,000 acres in all the villages of south Sonbhadra
Elimination of exploitation in the harvesting of forest produce
Promoting social welfare
Education
Of the school age children through

Regular 7 schools in remote areas
Non-formal education centres for 5 to 9 and 9-14 years age groups (special projects – 100 to 400 centres in isolated villages (between 1989 to 1996))
Hostel facility for students at Ashram and in 2 towns for girls and boys

Of adults (functional literacy)

men as well as women as special campaigns

Library facility at Ashram, Ashram's field centres and in villages as a part of the development project, 100 to 200 centres
Apprentice training in village industry, social work and employment skills
Rural Health Services
Spreading know how of health use of household remedies, family planning methods through trained village health workers (160), meetings and awareness campaigns in July-August, also the production of appropriate literature
Medical care facility at Ashram and at 4 village development centres; average annual attendance 30,000 patients
Women's Equality and Development
This is achieved by
Training selected village women through camps, exposure visits and association with the work of Gramswarajya and providing an administrative leadership opportunity
Giving a part-time job of contacting village women, making them aware and implementing specific activities (160 Gram Sakhis)
Promoting self-help groups (113) and Mahila Mandals
Drinking water facility
160 hand pumps installed
1,800 wells dug/renovated
Promoting agriculture, forestry and dairy development and khadi and village industry
Agriculture: 1,411 earthen dams, 1,110 intake wells, 372 lift irrigation installations irrigating 21,650 acres of land. Terracing done on a 23,390-acre land
Forestry: 46,75,000 firewood, fodder, fruit, timber plantation done. 34 nurseries set up.
Dairy: One cross breed cowherd dairy, 6 bull service centres, distribution of 200 milch animals
Popularising use of khadi. Also popularising cotton, silk and woollen khadi production and cocoon rearing. Developing village industries – soap, oil, condiment powder, leather goods, carpentry, blacksmithy, brick making, etc. Khadi and village industries have a turnover of about Rs 80 lakh per year
The revival of village industries for income generation and self-reliance through
Training in craftsmanship and management for workers
Upgrading existing skills and output by providing training and feasibility support
Running of production, research and training centre in ashram premises
Organising 9 raw material facility centres and 5 sales outlets
Extension of Gramswarajya work to other areas through young social workers
By imparting training through social work experience to youth and
Providing financial and other support in initial stages (136 action groups)
Environment protection work
Activities oriented to environmental protection are:
Increasing awareness about the significance of it and motivation to care for it.
Study and follow up of changes observed.
Ashram has been executing environmental quality monitoring in Singrauli area since 1997. At present, it is conducting environmental quality monitoring for air at 9 places, surface water at 24 places and groundwater at 13 places for Central Pollution Control Board. Consultation with experts and presentation of the concern at appropriate places.
In Summary…
The Ashram's policies have been successful as far as fostering confidence and handing over the responsibility for the continued activity to the community are concerned. The villagers now make small independent community action plans.
All the activities resulted in a change in the thinking process and attitude of the villagers. The Ashram has helped to bring about visible and remarkable changes in the south Sonbhadra.
Watershed agricultural development and provision of drinking water has changed the face of the area, although pollution through intensive industrialization and careless treatment of the environment has poisoned drinking water wells.
Land rights for 1000's of people, release from bonded labour for all and the closure of liquor shops were achieved thanks to campaigns to ensure that all legitimate claims to lands and land-titles were drawn up and submitted immediately.
The desire for education of boys and girls has become generalized but lack of facilities and funds (only half the amount needed for educational grants for the poor is available at district level) impedes higher education of the poor.
Consumption of vegetables and fruits has increased as has hygiene and health consciousness, but there is an enormous shortage of qualified doctors, dentists etc.
The Ashram is conducting research and working on environmental health protection for 20 years.
Throughout, the Ashram has concentrated on awareness creation and on the empowerment of the people. The villagers are now following up the functioning of Panchayati Raj, the implementation of different Government schemes, the application of the Forest Right Act 2006.
These days, there is extensive collaboration throughout the field area with UNICEF on different children related projects, such as awareness generation on Child Rights (saving working children and ensuring that all out of school children effectively get the right to education) and on Adolescent Girls' Awareness, Advocacy and Health Care.