Education for Children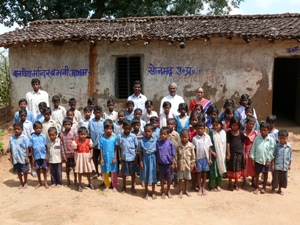 Children outside an education centre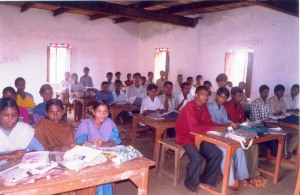 Students attending a class at another school
Banwasi Seva Ashram started its education programme with awareness generation. In 1967-68, an adult literacy programme along with mobile library programme was added. Child education programmes started in 1968 with the establishment of a school. Non-formal education was started in 1977 for school deprived working children. A total literacy campaign was started in 1990 and three years later, children science congress and life education programmes were added.
In the period 1990-96, the total literacy campaign covered 212 villages. The total literacy campaign entailed literacy of women and men and also the continued education of literates through Jan Shikshan Nilayam's. The regularisation of government schools and involvement of women leaders to enrol children, especially girls, in schools – between 1990and 1993 – increased the success. As a result, the literacy level in Total Literacy Programme villages increased to 75.46 per cent and people's interest in children's education increased.
Two kinds of non-formal education centres were run for children between 5 to 14 years age: 'Bal Mandirs' in the morning hours for 5 to 8 year aged children and evening 'Gramin Shalas' for 9 to 14 years aged working children. Now these centres are demand driven and are organised on the basis of demand and availability of funds.
Banwasi Seva Ashram was designated to run the District Resource Centre as part of the Total Literacy Campaign, for preparing appropriate literature and training the personnel.
The Ashram has three hostels for boys and girls at three different places: Ashram premises, Turra and Duddhi Nagar. The inmates bear their expenses. The infrastructure cost is borne by the Ashram.
BSA runs a high school on its premises. There are five junior high schools and one primary school at Village Development Centres. Students of these education centres have participated in national events of Children's Science Congress and one girl student in an international event.
As compared to earlier days, parents have become aware of the significance of children's education. The government schools are being regularised. Some other organisations also run schools. But still there are several places without educational facilities. The Ashram thinks of running new educational centres on a beneficiary contribution basis.
The Ashram organises 13-15 life and prevailing situation orientation camps for adolescent girls as well as boys of the 14-20 years' age group (students and non-students), for promoting an understanding among the new generation.
Accreditation of Banwasi Seva Ashram by the National Institute of Open Schooling did not help to spread the certificate oriented education because of the cost involved. Accreditation by the Children's Science Congress has helped promote a scientific attitude among students and teachers.