Agriculture, Horticulture and Forestry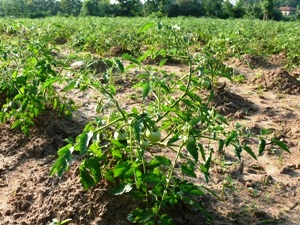 Thanks to efforts of Banwasi Seva Ashram, crops like tomato have been introduced in south Sonbhadra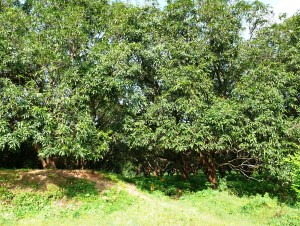 A lush green mango orchard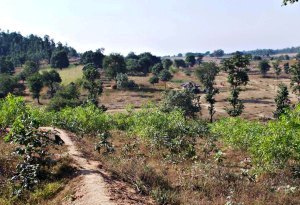 Saplings planted to increase green cover of the area
Thanks to efforts of Banwasi Seva Ashram, crops like tomato have been introduced in south Sonbhadra.
The Ashram conducted various experiments in the production of grains, vegetables, fodder, gardening, and forestry, on its premises. The experiments which were successful were then extended to the villages. People liked the slogan 'Water for every field, work for every hand', coined by Prembhai.
In the beginning, emphasis was on using compost along with fertilisers, but since some years, on using compost instead of use of fertilisers. The Ashram promotes use of cow urine as fertiliser. Now indigenous herbs are being used as insecticides. This knowledge is communicated to people in special camps held at Village Development Centres. Village women leaders – the Gram Sakhi's – communicate the messages during their programmes of home visits. Demonstrations on the topics are also held during orientation training camps, orientation of adolescents and youths and of other village functionaries.
Initially the Ashram provided seeds, fertilisers and also diesel for irrigation purposes, but now villagers are able to manage all this on their own.
Recently the Government has taken steps for commercialisation of agriculture and in this regard canvassing is being done by the Government Departments and commercial agents. Banaras Hindu University also advocates diversification of products. But the Ashram is against commercialisation of agriculture and has taken steps to make the society and specialists aware of the dangers of this practice. Food security is paramount for small farmers. This must be realised by everyone.
Horticulture
The Ashram has planted fruits like banana, sugarcane, lemon, guava, mango, grape and peach. Success in raising these crops on land full of stones was a morale booster for us and a new experience for horticulture officials.
Later the Ashram started raising a nursery of fruit plants. Saplings were distributed and also sold. Several villagers pooled in money and planted saplings. Now fruit trees can be seen in homes. Some villagers also sell fruits in the market.
Forestry
The Ashram has raised forest on 35 acres of its land and motivates the farmers to plant trees on the boundaries of their fields. Several people have also taken initiatives for intensive plantation on their unproductive lands.
Apart from plantation, the Ashram has also motivated farmers to protect village forest, with varying success.
A nursery has also been set up as a part of wasteland development activity in Ashram farms. Later several villagers were trained in raising a nursery.