Women's Empowerment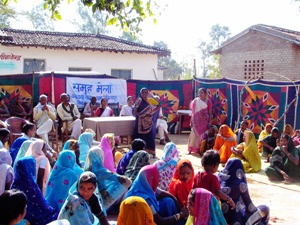 A structure full of water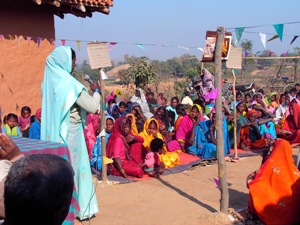 A structure full of water
Women empowerment programmes commenced in 1968, in the form of a dialogue with women workers on weekly wage payment days. Whenever the mother and aunt of Prembhai visited the Ashram, women awareness camps were organised in the neighbourhood and in remote villages. At first, the people were fearful and men used to accompany women. But when the community got confident, demands for more camps poured in. But the work did not shape up till 1989, because the Ashram had no women workers.
In 1989, a women's hostel was started with a view to enable women facing problems to learn occupational skills. During the same year, a leadership development programme for women was initiated. Most of the participants were illiterate, had problems and were accompanied by small children. Despite of these constraints, it was a great learning experience for trainers and trainees. It enthused women to venture in social service.
A Mahila Samakhya programme was started in 1990, with support from the Government of India. This programme was launched in 10 villages each, in three blocks. During one-month training sessions, women learnt sitting in a group, listening, literacy skills, singing songs, nutrition, knowhow about stitching, lighting stoves and lanterns, agricultural practices, family culture, etc. Though it was a short term programme, it proved to be of significance. The Ashram got associated with village women through Gram Sakhi's.
The main features of the programmes conducted thus far are:
• Awareness building and personality development
• Development of sound family, culture and social and economic capacities of women
• Participation of women in panchayati raj
• Health care of women in general and that of mother and child in special
• Self help group and Mahila Mandal formation
• Entrepreneurship training
Men cooperate in women development programmes. This has given very good results. Women are now confident of dealing with community affairs.