Organisational Structure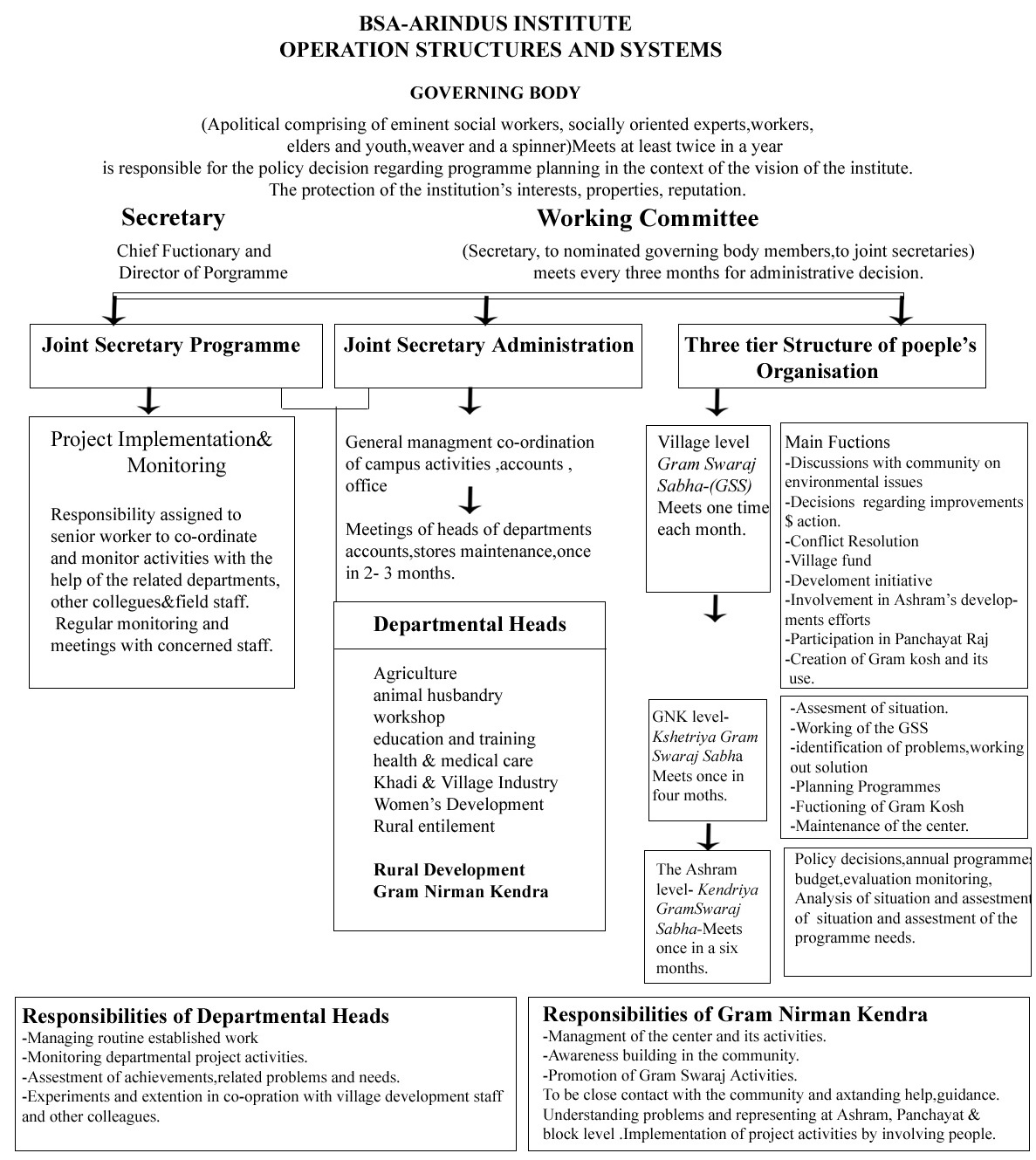 Governing Body
The Governing Body is superstructure of Banwasi Sewa Ashram. It has 15-members. Its members are eminent social workers, experts, local elders, youth and a weaver and a spinner. It meets at least twice a year.
Governing Body is responsible for:
The policy decisions regarding, programme planning in the context of the vision of the Institute
The protection of the institute's interest, properties and reputation
The raising and managing of funds for old, ongoing and new activities
Furthering the cause
The assessment of the work accomplished
Secretary of the organisation selected unanimously is a board member as well as a responsible functionary and holds the responsibility of managing activities, fundraising, utilisation of funds, etc., and calling Governing Body meetings and ensuring implementation of its decisions.
Departmental Heads
The organisation's departments are Agriculture, Animal Husbandry, Education and Training, Health and Medical Care, Environmental Health, Khadi and Village Industries, Women's Development, Gramnirman (village development) and People's Gramswarajya.
Departmental heads are responsible for:
The managing routine established work
Monitoring development project activity in the field and at the centre
Assessment of achievements related problem and needs
Cooperation with other colleagues and village development staff
Together with caring for Ashram's vision and mission as a whole
Village Development Centre (Gram Nirman Kendra) Representatives
Village Development Centre is responsible for:
Management of the centre and its activities
Building awareness in the community
Promotion of Gramswarajya activity
Contact with the community and extending help and guidance when required
Understanding problems and representing them at Ashram, panchayat and block level
Implementation of project activity by involving people
General Manager
General Manager is a senior worker of the Ashram. He coordinates and monitors activities with the help of related departments, other colleagues and field staff. More specifically, he is responsible for
General management, coordination of activities in the campus, accounts, office and building maintenance, etc.
Holding meetings of heads of departments and accounts, office and stores personnel once in 2-3 months
Supervision and maintenance of infrastructure facilities
People's Organisations for
Management of village level social activities
Village level activity planning, implementation and evaluation and sharing responsibility in implementation of Ashram sponsored programmes