Protecting Child Rights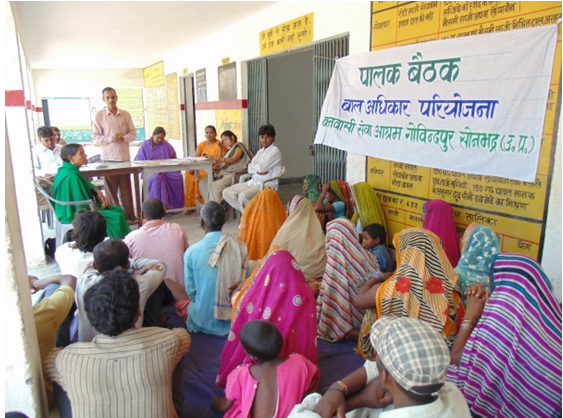 A meeting with parents of school children on child rights issues
 A villager reading material on child right issues in a village level meeting
Funding Agency: UNICEF
Period: 2011-2014
The major aim of this project was generating awareness among the children, parents and the village community on protecting child rights. The project implementation was carried out in 178 villages from 96 Gram Panchayats of two blocks, namely Myorpur and Babhani, in Sonbhadra district. Specific objectives were as follows:
To facilitate School Management Committees to play a proactive role in ensuring reduction in the number of out of school children , improve attendance of children and reduce the incidence of dropouts, assure an increase in transition of girls after class 5 and of all children after class 8, and increase awareness on Right To Education, child rights, and Children Friendly school norms among members of School Management Committees, Village Education Committees, Self Help Groups and Child Protection Committees in 178 villages
To strengthen and hand over to the Government (a) the Child Protection structures in 178 villages of Myorpur & Babhani block, (b) 2 Civil Society Alliances, at Block level, which respond to and address the local Child Protection issues.
To enhance knowledge and a positive attitude of families and communities in 178 villages of Myorpur & Babhani block in Sonbhadra district, for the promotion of child rights and the protection of children against violence, exploitation and abuse.
To empower women, especially those from socially excluded groups, to champion / promote rights of children and have a positive attitude to practice the 10 point child friendly agenda.
To support government front line functionaries and PRI representatives towards ensuring the delivery of basic services through a community monitoring system of Red Alerts in 178 villages of 96 Gram Panchayats of Sonbhadra district.
Major activities of the project included
Identification and formation of 205 functional women groups.
Selection of 12,300 households by women groups for behaviour change through their home visit
Formation of Child Protection Committees in 178 villages.
Formation of 45 adolescent groups in 25 % villages
Support for School Management Committee formation
Formation of two block level Civil Society Alliances, in Myorpur and Babhani block
Support in formation of block level Child Protection Committees, in Myopur and Babhani block
Community Meetings together with different stakeholders such as School Management Committees
Folk shows (street plays on child labour by involving local artists) and film screenings on different subjects at village level
Major achievements of the project are as follows:
1897 out of school children identified and enrolled in school
156 villages declared zero out of school children village
30 child marriages prevented
Birth registrations to 1238 new born babies
One Mahila Gram Pradhan given an award by the Panchayati Raj Officer
Villagers have become vibrant on child rights and child protection issues
Visible changes as a result of the project are
Child members (Bal Pratinidhi) became vibrant members of Child Protection Committees and started taking initiatives
Increased awareness on Right To Education
Increased rate of institutional and safe deliveries