Know Sonbhadra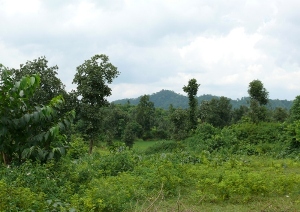 Much of Sonbhadra district is undulating terrain.
Sonbhadra district was carved off from parent Mirzapur district on March 4, 1989. Measuring 7,388 sq km, Sonbhadra district is the largest district in Uttar Pradesh as far as area is concerned. It lies between 23.52 and 25.32 degrees north Longitude and 82.72 and 93.33 degrees east Latitude. The district is bound in west by Madhya Pradesh, south by Chhattisgarh, east by Jharkhand and Bihar and in the north by Mirzapur district of Uttar Pradesh. Robertsganj is the main city of the district and district headquarters. The district has a population of 14,63,519, giving it a population density of 198 persons per sq km, least in Uttar Pradesh.
Son river flows through the district from west to east and its tributary the Rihand river, which rises to the south in the highlands of Chhattisgarh and Madhya Pradesh, flows north to join the Son in the center of the district. The Govind Ballabh Pant Sagar, a reservoir on the Rihand, lies partly in the district and partly in Madhya Pradesh.
The district has two distinct geographical regions, each accounting for almost 50 percent of the area. The first is a plateau, which extends from Vindhyan range to Kaimoor range of hills up to Son river. This region is 400 to 1,100 ft above the level of the Ganga valley.
The other part is the Son valley, south of the Son river and housing the Singrauli and Duddhi. They are well known for natural resources and fertile land.
Till almost 10 years after Independence, this area (still a part of Mirzapur district) was secluded, without any means of transportation or communication. With the discovery of limestone and later coal in the hills, coupled with an abundance of water, this area became industrial heaven.  It has some of the largest cement factories, power plants (both thermal and hydro), aluminium and chemical plants of the country. A large number of ancillary units and unorganised production centres, particularly stone crushing units have also come up.
While this industrial progress may be envy of any region, the original inhabitants have been marginalised and left to suffer on their fate. The area south to the Son river, where Banwasi Seva Ashram works, was covered by thick forests and abode to humans and wildlife. Despite being virtually cut off from the rest of the State, the situation used to worsen during the rains. The communities were happy and by and large self-sufficient.
Tribals and inhabitants were practising jhoom cultivation – they used to cultivate land for three years and leave the land follow for one year. The area also used to face drought every three years and famine almost every 10 years. Disputes between the Forest Department and locals were rising, leading the exploitation of every kind.
It is in this backdrop that Banwasi Seva Ashram was formed in 1954. The rest is history.