Health and Medical Care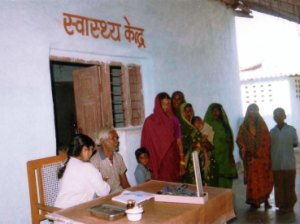 Patients flock to one of the health centres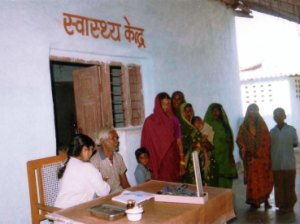 Patients after an eye operation camp
After the establishment of BSA, a massive campaign was undertaken for the treatment of Savaiyya, a widespread communicable disease prevalent in the area.
In 1968, health care and medical treatment started as a well-planned activity. The four-point action plan was:
• Improvement and protection of the health of a rural community
• Training of local people for running the project and for extension work
• Awareness generation about small and planned family
• Identification and popularisation of useful household remedies
The organisational structure that helps to promote health and medical care is:
• Swasthya Mitra (health workers) at the village level
• Health and primary medical care centres at village development centres of the Ashram
• Health education, training of health personnel and medical care centre in Ashram's campus
• Referral to nearby equipped hospitals for serious and special diseases
• Publication of health education material
Health and primary medical care centres are open in morning hours and are run by Ashram-trained village doctors. In the evenings, village doctors visit villages for creating health awareness.
Agrindus Clinic at the Ashram headquarters attracts patients not only from Sonbhadra district but also from neighbouring districts of Uttar Pradesh and from neighbouring States Jharkhand and Chhattisgarh. The clinic has a small pathological laboratory and lodging facility for the sick.
The Ashram centre trains health workers and village doctors for its own health programme and also selected workers of small voluntary organisations. It produces learning material like posters, folders and booklets to facilitate health education.
The experience over the past decades has made it clear that the newly emerging diseases are difficult to control at individual level. The society will have to consider changes taking place in its own environment, the genesis of new ailments, understand norms of development and bring change in it to develop a healthy life style. This is a special concern in the context of health education.